Judgement Day
Judgement Day was the Silver Medal Winner
of the 'Fiction - Humor/Comedy' Category
of Dan Poynter's Global Ebook Awards - 2016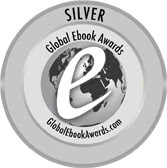 The comic, romantic, adventure thriller by Swan Morrison
Download now as an eBook - all platforms


Download now as an eBook - all platforms
Description:
Judgement Day is a true story. To preserve confidentiality, however, all the characters, facts and circumstances have been changed.
When a meteorite destroyed a house in a sleepy, English village, no one could have predicted the chain of events that would lead Swan Morrison and Helen Hargreaves to romance and would ultimately propel them into an epic battle for the very survival of mankind.
How can one adequately describe a novel that is (in alphabetical order): an adventure filled; archaeological; comic; crime featuring; dramatic; erotic; espionage laced; horror tinged; political; religious; romantic; science fiction; supernatural thriller with philosophical, satirical and allegorical undertones?
This affectionate tribute to many classic storylines is where the writers of the Archers meet the creators of Indiana Jones meet Dan Brown meet John le Carré meet E. L. James meet Stephen King meet Isaac Asimov meet Barbara Cartland meet Harold Robbins meet Colin Dexter meet Ian Fleming meet Woody Allen meet Douglas Adams – to name just a very few.
Incorporating a diversity of themes and genres exceeding the works of Shakespeare, together with an exploration of the relationship between man and God that is comparable to the great religious texts – all skilfully woven into a breathtakingly complex plot – this ground-breaking, multi-genre masterpiece may yet be judged to be one of the finest works of literature ever written.
Download now as an eBook - all platforms
~*~*~*~*~*~*~*~
The Author:
~*~*~*~*~*~*~*~
eBook Download Links for Judgement Day
some of the Amazon sites are not free - just try another supplier
~*~*~*~*~*~*~*~
Further Useful Links:
~*~*~*~*~*~*~*~