New Jersey Man, 45, Declares Intention For The 2018 U.S. Men's Soccer Team
by Walter Bowne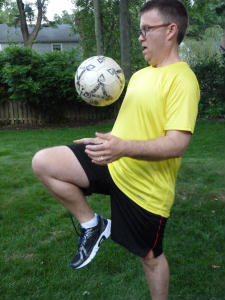 Inspired by the fine athleticism, histrionics, and dashing good looks of the World Cup players, New Jersey man, Walter Bowne, 45, has officially declared his intention to play for the Men's National Soccer Team in 2018.
He informed his family during taco salad dinner, and then submitted a press release.
When he saw that Argentinian guy miss that obvious shot in front of the goal during the World Cup Final, Bowne told his daughters, "I could have made that! Geez!"
Walter Bowne said he didn't realize it was his destiny to play international football until he started following The World Cup in Brazil. His last league play was in 1978-1980 with Voorhees Community Educational Recreation where he played as a utility player. With golden locks and fierce determination, he did stints as striker, midfielder, fullback, and even goalie once or twice. "What I lacked in skill, I made up with enthusiasm," he said. "I never saw a ball I didn't challenge. I had the reputation for being a dirty player."
He related with glee the time he tackled two twin girls with each leg, earning a red card, but saving a possible game-winning score from local rival, Chick's Block.
"I was dirty, yes, but also feared," he said.
Walter Bowne started training in late June by buying athletic gear at Kohl's. He doubled his order for his 30% off coupon, as well as getting Kohl's Cash. He started conditioning a week later at the local Jewish Community Center in Cherry Hill. "When I started on the step machine, I was lucky to go ten minutes," he said. "Now I can go, like fifteen, plus another ten minutes walking around the indoor track."
Bowne said he hopes to be able to run the expected ten to fifteen miles needed to compete with international superstars like Ronaldo, Messi, and Müller. "I will be increasing my time at the JCC by a half an hour every day," he said.
"Sure, they are younger than me," Bowne said. "But forty-five is the new twenty-five, right?"
Bowne said his vocabulary has changed too. He now uses the word nil to mean zero. He throws in "an equalizer" whenever possible, and mentions "lovely touches" when appropriate. Fields are now pitches and sneakers are boots. "It feels awesome to be so international, now, eh, mate?"
"You know, my wife threw me a tomato while making dinner, and I headed the darn thing, straight into the clock on the all, and it crashed. But it was lovely header," he said.
Bowne said he has been reading up on the sport he didn't realize he loved until he saw the Group of Death games against Portugal and Ghana and Germany. "I was like, wow, these guys rule. No helmets. No stoppage. And boy, they are all so gorgeous. Such gorgeous guys! I would fit in fine with those guys."
He is currently on page 167 of George Vecsey's new book Eight World Cups. He is now able to hold down detailed conversations with futbol aficionados all because of this one book. "Go ahead, ask me with Gary Lineker is. Go ahead!"
Bowne said he's seen videos of Maradona and Zidane. "And I have to admit, their moves resemble some of mine," he said. "My style of play would definitely fit the tika taka play of Barcelona and Real Madrid!"
Bowne said his old coach said he was like a bulldozer through butter.
Bowne said he stopped playing soccer when he discovered his love of acting. "Now I think I can combine my athleticism with my obvious ham-bone," he said.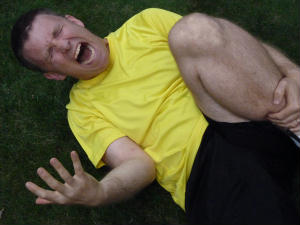 During his day job as an English teacher, Bowne says he helps unofficially coach high school footballers the fine art of coaxing a yellow or red card. Before practice, Bowne engages in improvisational skills of feigning pain enough to be believable, but not enough to be dreadfully obvious. "There is fine line," Bowne said, "between overacting and acting."
Bowne said his time as a student in England did not inspire him to become a football hooligan. "Our team was Newcastle United," he said, "but I was more interested in watching local women at the Royal Archer Pub."
He said he was more into rugby and actually played a few scrimmages with the University Club, but shouts of "Kill the Yank" made his mother suggest that he find another activity while away from medical care.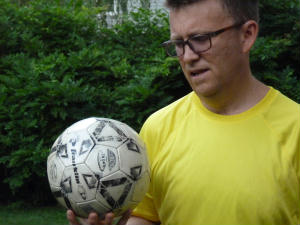 Bowne said he hopes to attend local Union games, as well as tryout for some over-forty leagues. "Then I'll just keep plugging away," he said. "And I hope to get a chance at tryouts."
His family has scoffed at his intentions. They have been wondering about the lack of toilet paper in the house, as well as the long grass. But Bowne said how many people laughed at other people and history and look at what some of those people did. "They laughed at Don Quixote, but he dreamed the impossible dream, and this is America," he said. "Just don't laugh at me!"
The Impossible, after all, is only Possible through hard work and determination.
"You can look for me in Russia," Bowne said. "All those gorgeous international girls with the USA flag painted on their face will be shouting, "Bowne! Bowne! Bowne!"