Shore Tumour
by Michael Franklin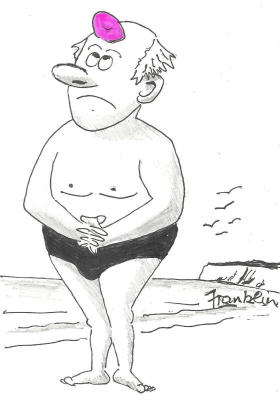 Fred had a health problem. He, in middle age, was a keen swimmer as he had been all his life, and he wondered whether wandering down to the local beach regularly and plunging into the surf had damaged him in some way. He was walking down to the medical centre to sort it out.
He had always enjoyed vibrant health, so he was not well-informed when it came to medical matters, but he thought he was aware of some of the threatening elements that all humans had to face. It certainly was not that nasty thing called Hippilepsy because his tastes were traditional - and - because he kept himself to himself, he never got involved with Rumourtism. It could be Halfrightis because he knew knew he often got things wrong. Newmonia? Certainly not. He had been suffering this discomfort for a long time now and had not complained about it. Salmonella? No. He had never had a taste for fish. Gonner-here? No. He was not dead yet. Botulism? No - it was at a higher level. Collarer and tie fuss. Unlikely as he never wore a formal shirt.
Facing the Doctor across his desk he got an instant response. "Your worry is that ugly lump on your forehead?
"Yes."
"Well - I can tell you immediately what it is. You are obviously a swimmer?"
"Yes."
"That is evident, and let me explain why. Recent medical research has identified a new benign tumour source that is saturating our coastline. It is thought to be caused by teenage boozing overflows finding their way down rivers into the ocean. The forehead appears to be the first target for tumour growth because it is on the front of a swimmer's body and it leads the way through the water. It is now known as Shore Tumour."
'Sure - chew more' sounded like a greed encouragement to Fred, but he did not pursue his curiosity in that direction. A simple question would do. "Can you remove it Doctor?"
"Yes. Easily done. Tell the reception you need an appointment for the treatment. One of our nurses will have a look at it. When you come back it will be removed by our surgery."
Fred felt reassured. Their Sir Jerry was obviously going to be well qualified.
"Will it be painful?"
"No. Local anaesthesia."
Okay thought Fred. If their local Annie's the easier, why should he look for the harder!